PLEASE NOTE:
All horses are up to date on hoof care, vaccines, deworming and annual dental work.

**Adoption Application can be found at the bottom of this page**

BIG MAGICK (Buzz)
9 year old Standardbred gelding ~16hh
companion home only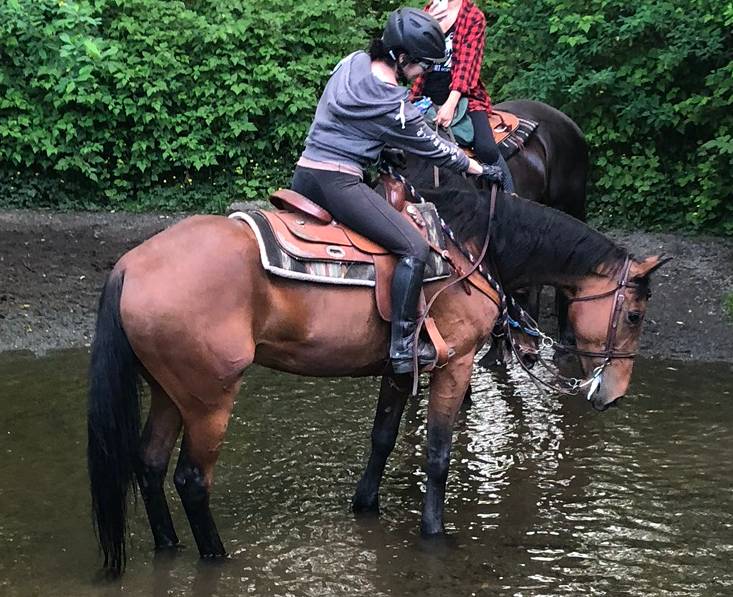 Buzz retired from racing in November 2018 after 53 starts and just over $48,000 made in his career.
He has been adopted and returned to the program a few times and we are determined to find him his forever home.

Buzz is filled to the brim with personality. He loves attention, but can be a bit of a handful sometimes.
Buzz does best with one consistent horse companion, preferrably a mare.

Due to a previous injury, Buzz is best suited to be a companion horse- but needs more stimulation than just sitting in a field.
Buzz has lots to offer his future home- he is a character and is so lovable. He could be everything your farm is looking for.

Buzz located at our foster farm in Mission, BC
His adoption fee is negotiable to the right home
---

OSCAR P COALTRAIN
5 year old Standardbred gelding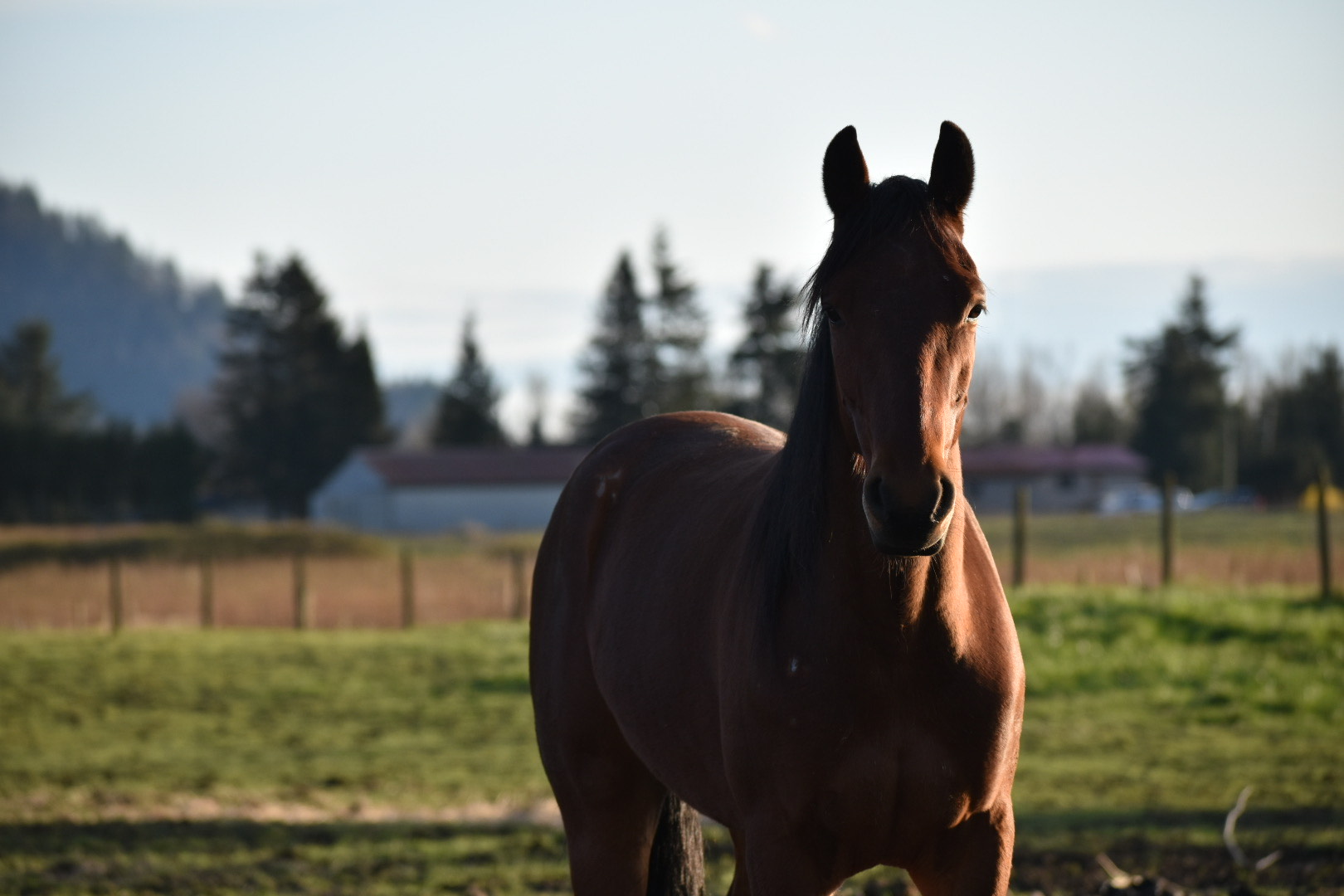 Oscar is a great guy with a wonderful personality.
Oscar retired from racing with a bowed tendon and has been examined by our veterinarian.
Oscars future abilities is unknown, but we beleive that with the right amount of rest and rehabilitation, Oscar could take on a new career under saddle.
Oscar would likely not hold up as a jumping prospect, but this sweet guy would sure love someone to take a chance on him.

Vet reports will be disclosed to serious applicants.
Oscar is located at our foster farm in Mission, BC
His adoption fee is $850 but negotiable to the right home.
---

FLYIN BAYOU "Memphis"
3 year old Standardbred mare ~16hh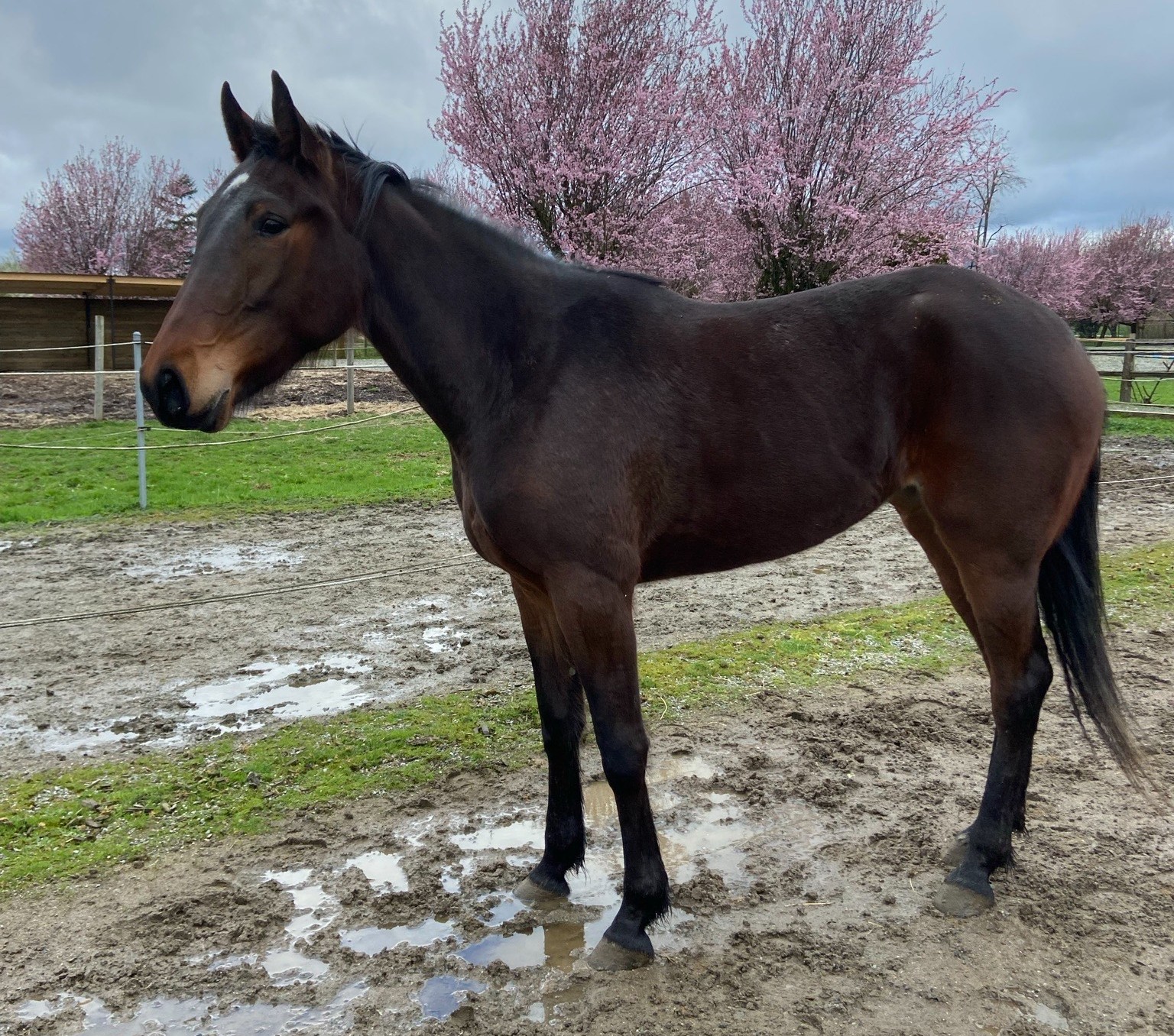 Memphis is a young, tall beauty. She's still growing/ filling out and is already around 16hh.
She loves her human friends, loves to be fussed over and given attention.
In true baby fashion Memphis can test boundary's to see what she can get away with. She's not mean, just playful and full of spirit!
Memphis came to us with some lameness issues that have seemed to resolve with a few months of turn out.
She has some arthritis in her hock.
Memphis would be most suitable for someone with experience working with a young/ green horse.
She would be suitable for light riding once she's finished her growth spurt (about another year)
Memphis is up to date with her feet/teeth/vaccines and deworming
Memphis is located at our foster farm in Mission, BC
Her adoption fee is $850
WEEZY HANOVER "Tesla"
15 year old Standardbred mare ~15.2hh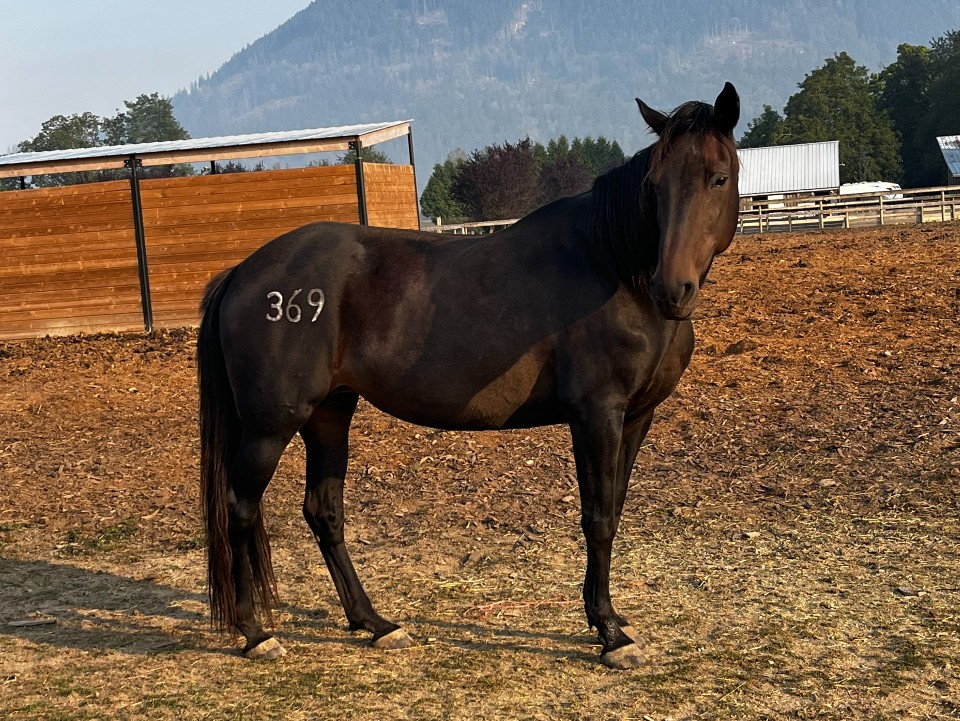 Tesla never raced, she was used as a broodmare for awhile then passed hands and didn't do much for the past few years.
Tesla is a sweetheart once you've earned her trust. For whatever reason she's a guarded horse and for the first little while upon her arrival we couldn't catch her.
We've made progress & she will come to the people she knows now! She is even starting to let herself enjoy being scratched and loved on. She has learned to stand patiently in the cross ties and picks up all her feet without issue.
Tesla is excellent in a herd. She's good with dogs, pigs, a goat and a cow. She wants to please and is coming along nicely.
Tesla would do best with someone experienced who uses a gentle approach with their training.
Someone who is not in a rush and will give her the time and space she needs.
Tesla is up to date with her teeth/feet/ vaccines and deworming.
Tesla is located at our foster farm in Mission, BC
Her adoption fee is $850
---
LILLOUDER
3 year old Standardbred mare ~14hh
This cutie is sure to win someone over very quickly.
Lillouder is cute as a button with a great personality, she loves attention!
This sweet girl is recovering from an injury that may require surgery.
Stay tuned as we determine a plan for this lovely gal.
Lillouder is located at our foster farm in Mission, BC


---
CONNIVER
2 year old Standardbred gelding ~15hh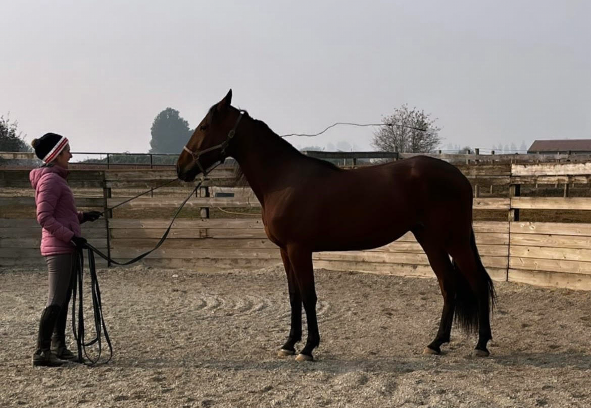 This new fella has never raced but he has been in training at the track for the past year.
He is very handsome and will only get more handsome as he grows into himself.
Conniver sound and ready to head in any direction.
Conniver is super social, loves people and will climb into your lap if you let him. He's a favourite in the barn with his loving personality.
He is looking for someone experienced who is willing to take it slow in his training allowing him time to grow.
Check out our Instagram page for some video of this guy!
Up to date on teeth/feet/vaccines and deworming.

Conniver is located at our foster farm in Mission, BC
His adoption fee is $850
---
MILLBANKS PIPER

15 year old Standardbred mare ~15hh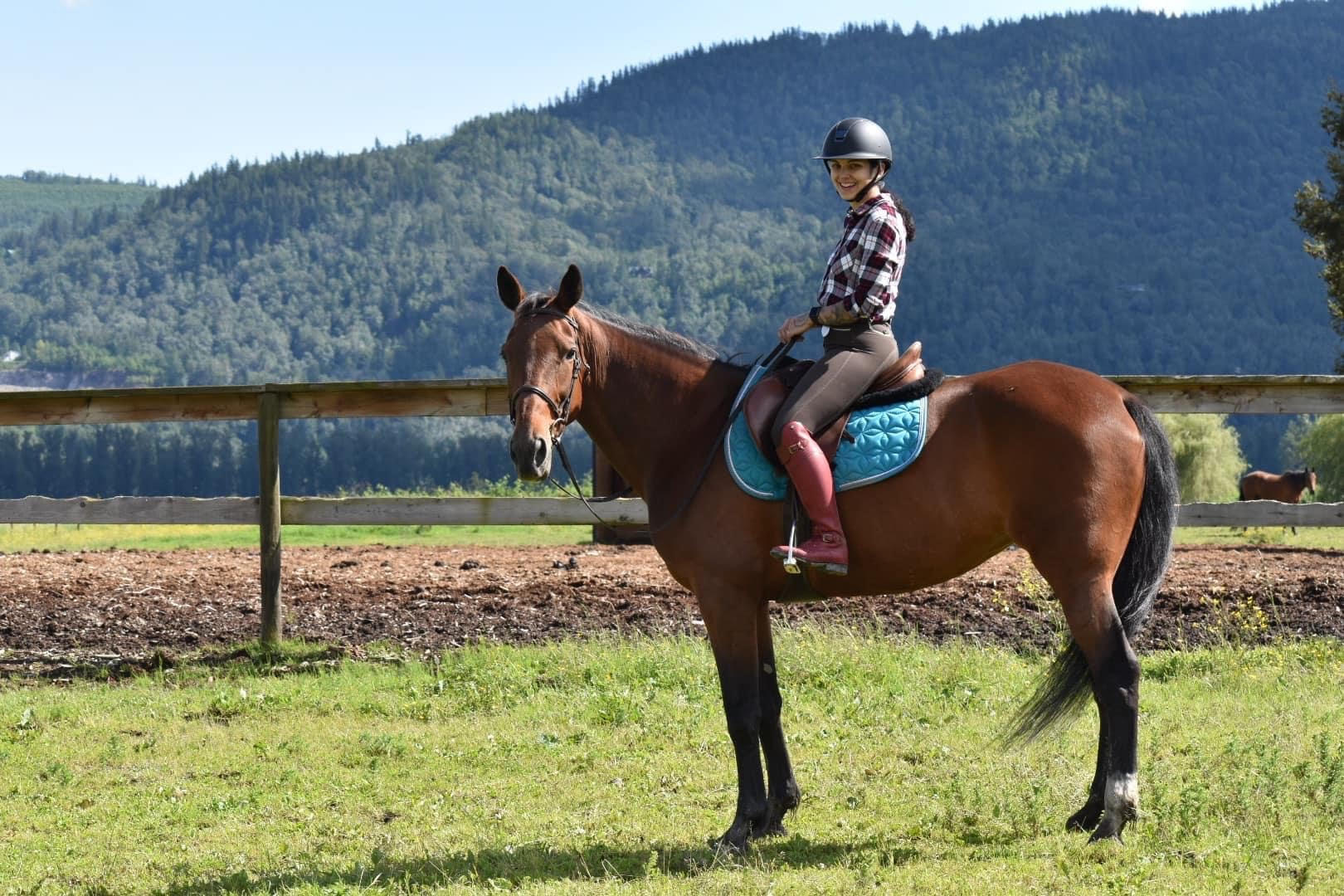 Due to no fault of her own, Piper has returned to us to find a new home.
This lovely mare raced 126 times and retired in 2014. Since retirement Piper has had 4 foals.
We've started her under saddle and she's coming along nicely. Her walk/ trot is consistent and she is even offering us a nice canter!
Piper is super steady and willing under saddle. We haven't taken her on the trails yet but have led her down the road without any spook or second look. We think she'd make a great trail horse!
Since Piper spent many years as a broodmare she has picked up some pushy habits on the ground. It's nothing dangerous and mainly stems from her asking for treats
She would do best with someone who is patient and can continue her training on personal space using a gentle technique.
Piper is up to date on feet/ teeth/ vaccines and deworming.
She's a perfect lady for the farrier & vet. Good in a herd and with dogs, goats, pigs, small cows.
Piper is located at our foster farm in Mission, BC
Her adoption fee is $850
---
CLINTONS LEGACY "Lacey"

11 year old Standardbred mare ~15.3 hh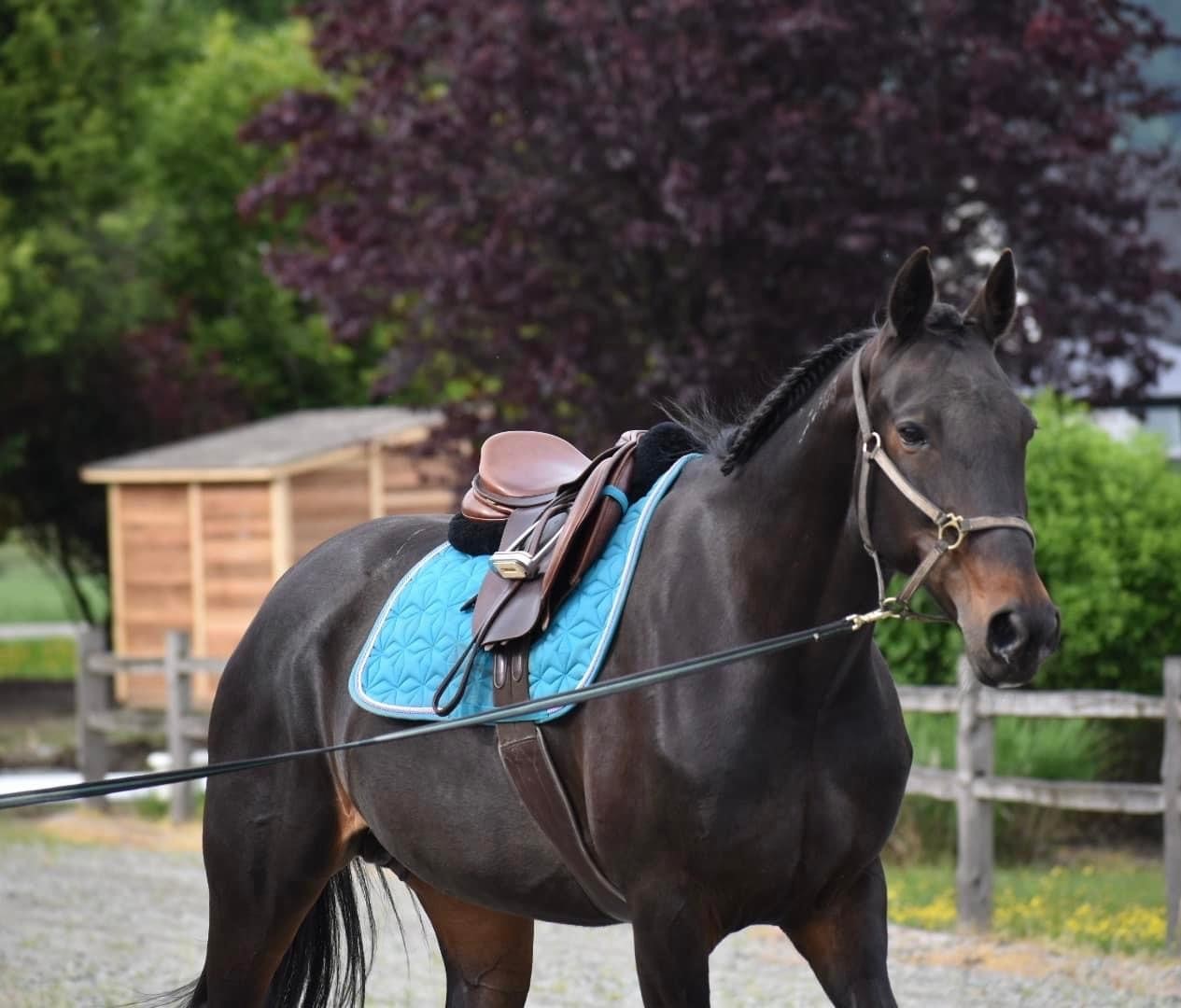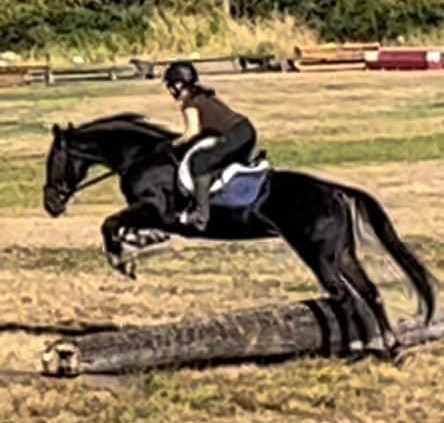 This girl was returned to us in order to find a special home for her medical needs.
Lacey was working towards a new career as an eventer when she was having challenges with her breathing.
Unfortunately, it was determined that Lacey would not be able to compete at a high caliber despite her enjoyment of her new career.
It was also decided that she would do best in an outdoor environment (pasture/paddock with shelter) than an indoor stall.
She comes with her veterinary records to ensure her new home knows her limitations and requirements.
She has a calm and easy going demeanor, and would do well as a trail or pleasure horse.
She is not spooky and takes everything in stride. She is a pleasure to work with.

Lacey is up to date on dentistry, farrier work, deworming and vaccines.
She has had her coggins done as well.
Lacey is located at our foster farm in Mission, BC
Her adoption fee is $850
If you are interested in any of our horses:

1) Fill out our

Adoption Matching Form
OR new Online Adoption Application
-You can print the form out and scan (or take a photo of) the finished product
-You can fill the PDF out on a computer by adding text to the document

2) Send your completed application to greenerpasturesbc@outlook.com with any
additional information you may wish for us to know

3) We will contact you to discuss your application and set up a time that works
with you to meet the horse of your dreams.

See our ad in Canadian Horse Journal