PLEASE NOTE:
AS OF JAN 1, 2021- OUR ADOPTION FEES HAVE BEEN RAISED TO $850
This is to accomodate necessary veterinary work done to ensure all horses are up to date on hoof care, vaccines, deworming and annual dental work.

**Adoption Application can be found at the bottom of this page**
Shalynn
3 year old Standardbred mare ~15 hh
potential for any discipline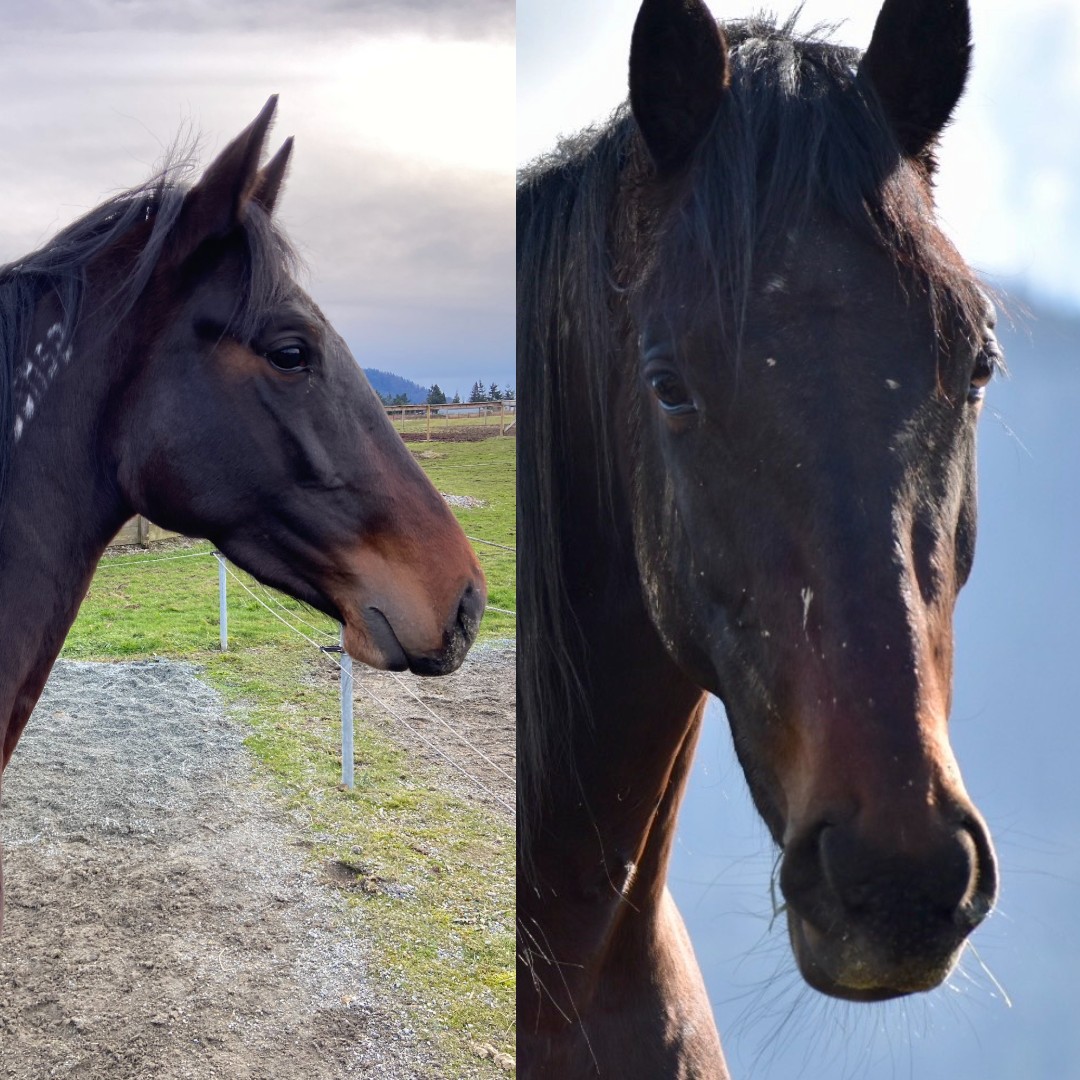 Shalynn is a 3 year old mare standing at 15hh. Very sweet, social and friendly girl.
Lots of spunk but still respectful to her handler. She's had about 7 months training in ground driving and in the race cart.
Turns out she doesn't want to be a race horse and is looking for a new career!
She will need training under saddle but she has tons & tons of potential.
Great with a herd!! Loves her mare friends. Really nice temperament with this girl!

Shalynn is located at our foster farm in Mission, BC
Her adoption fee is $850
---
Risque Miss (Missy)
6 year old Standardbred mare ~14.3hh
potential for any discipline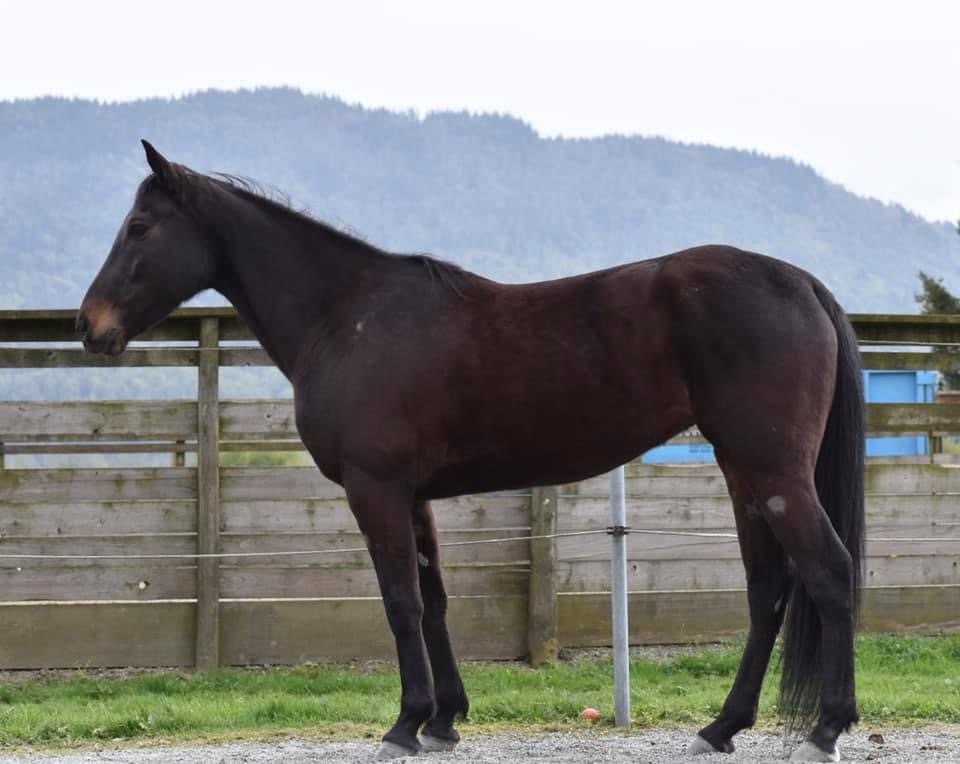 This lovely girl retired from racing after 82 starts and $38,900 made in her career.
Shes a small girl with a zest for life- she would thrive in a new competitive career.

We are just getting to know Missy, but see a lot of potential in her to do big things!
Check back soon for more information.

Missy is located at our foster farm in Mission, BC
Her adoption fee is $850


---
Fiftyshadesofpink (Pinky)
6 year old Standardbred mare ~15.1hh
companion/ light riding



Pinky is a gorgeous and kind mare who retired from racing in April 2021.
Pinky race 57 times and earned just over $35,000 in her career.
Unfortunately, Pinky sustained an injury to her shoulder before coming into the program and is looking for a home that could help rehabilitate her.
Our veterinarian has examined her injury and a plan has been made for her rehailitation.
We do not know what her future will look like but have high hopes that with some time and dedication she can be a horse capable of light riding on easy terrain.
With her kind, loving and easy going peprsonality- she would be a great four legged family member for anyone.

Pinky is located at our foster farm in Mission, BC
Her adoption fee is to be discussed (good home a bigger priority)
---

Big Magick (Buzz)
9 year old Standardbred gelding ~16hh
companion/ light riding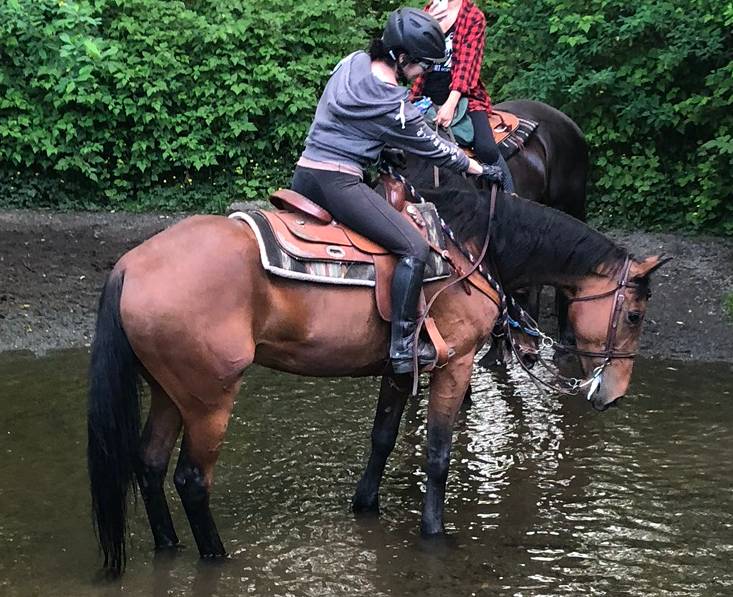 Buzz retired from racing in November 2018 after 53 starts and just over $48,000 made in his career.
He has been adopted and returned to the program a few times and we are determined to find him his forever home.

Buzz is filled to the brim with personality. He loves attention, but can be a bit of a handful sometimes.
Buzz does best with one consistent horse companion, preferrably a mare.

He has been ridden in the arena and on the trails- he would still love to have a job but due to some stiffness and past injuries, he should only be used for light riding.

Buzz located at our foster farm in Mission, BC
His adoption fee is $850 (can be discussed for the right home)

Nov2018 53 $48,000
If you are interested in any of our horses:

1) Fill out our

Adoption Matching Form
OR new Online Adoption Application
-You can print the form out and scan (or take a photo of) the finished product
-You can fill the PDF out on a computer by adding text to the document

2) Send your completed application to greenerpasturesbc@outlook.com with any
additional information you may wish for us to know

3) We will contact you to discuss your application and set up a time that works
with you to meet the horse of your dreams.

See our ad in Canadian Horse Journal