IMA B DOUD "JJ"
12yo Standardbred gelding ~15.2hh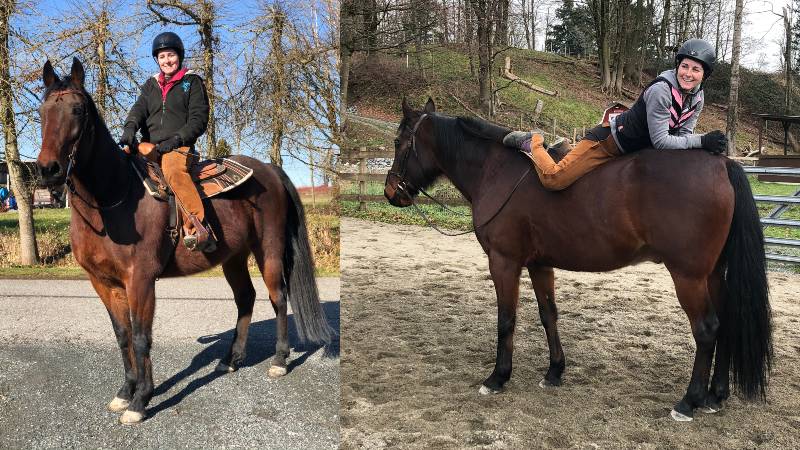 JJ is a sweet and sensitive guy looking for a place to call home.
He was adopted from the program 6 years ago and returned for some behavioural concerns under saddle.
JJ was used for back country riding and endurance riding, however he gets very anxious when horses pass him
or when horses leave him. He does not really enjoy arena or structured work.

JJ is a gem to be around in the barn, he will stand in the crossties for hours on end if asked to.
He loads and hauls, ties and baths. He is easy to work around in his stall or paddock.
JJ gets along well with all the horses hes met, but does become attached quickly.

We think JJ would make an excellent companion horse or a lovely pet for someone looking for a sweet natured horse to add to their herd.
Light riding would be fine for JJ, with the possibility of more if someone has the time to invest in the work under saddle.


JJ is located at our foster farm in Mission, BC
His adoption fee is $650
---
CANTBEATACHEETAH "Cheetah"
12 year old Standardbred gelding ~15hh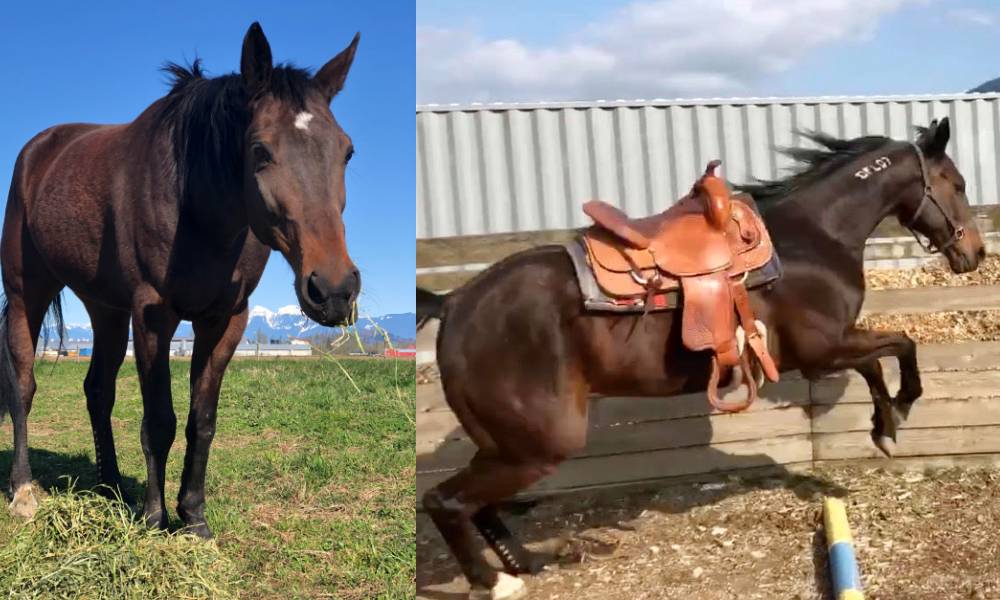 Cheetah is a 12 year old gelding with a pretty impressive racing career. Cheetah has 212 life starts earning a total of $215,705.
He has 32 wins, 24 seconds and finished third 26 times. This guy is a dude!!
If it's a horses big eyes that attract us to them this guy will sucker you right in- he has beautiful seal eyes that will melt your heart.
Although Cheetah doesn't have many miles yet under saddle he has tons of life experience - even more than most bomb proof trail horses. He is not bothered by much and can be easily handled even by a child.
Cheetah is about 15hh with a slender build, he's sound and ready for his next adventure.
Cheetah is located at our foster farm in Mission, BC
His adoption fee is $650
---
ROSS RIDGE FORTUNE
13 year old Standardbred mare ~15.3hh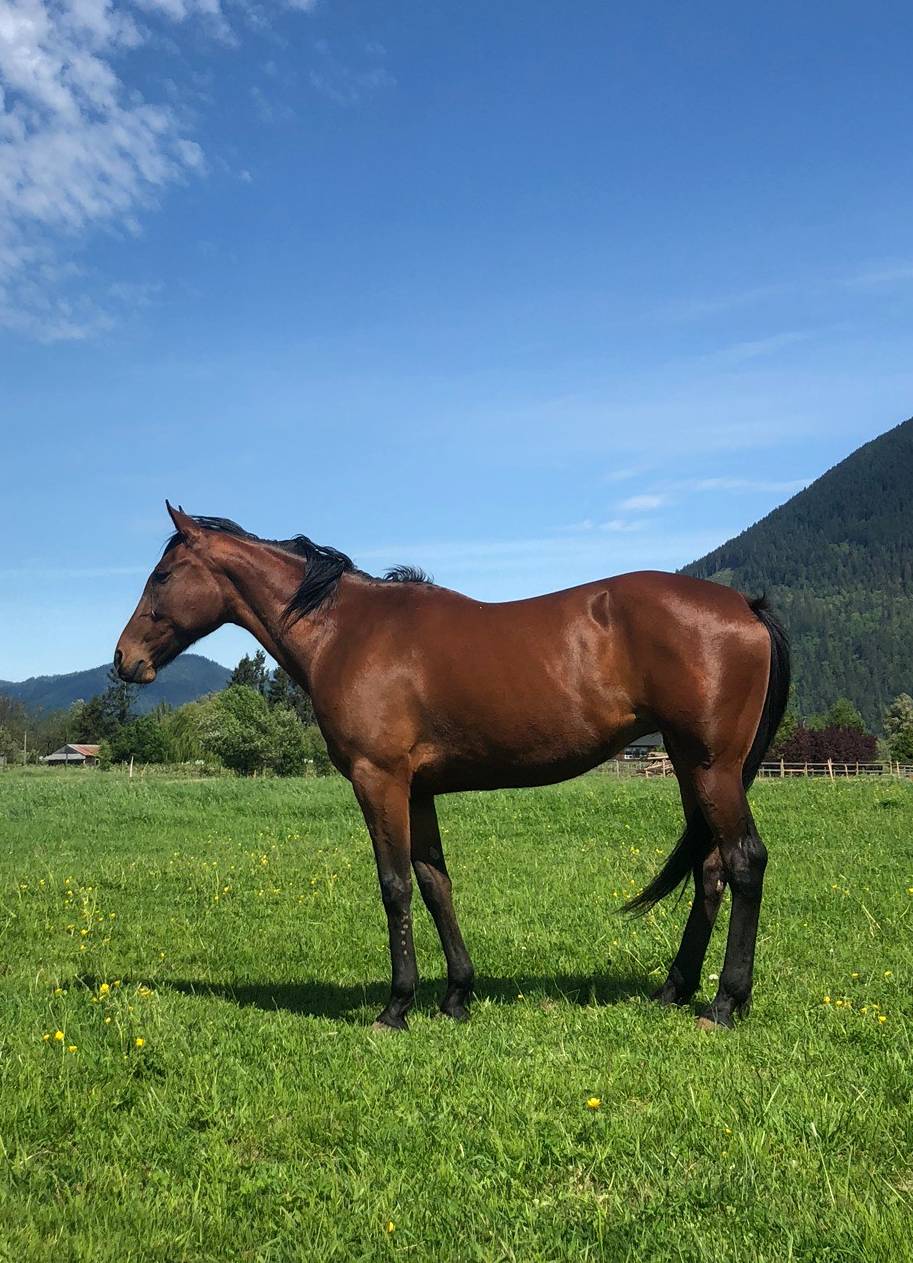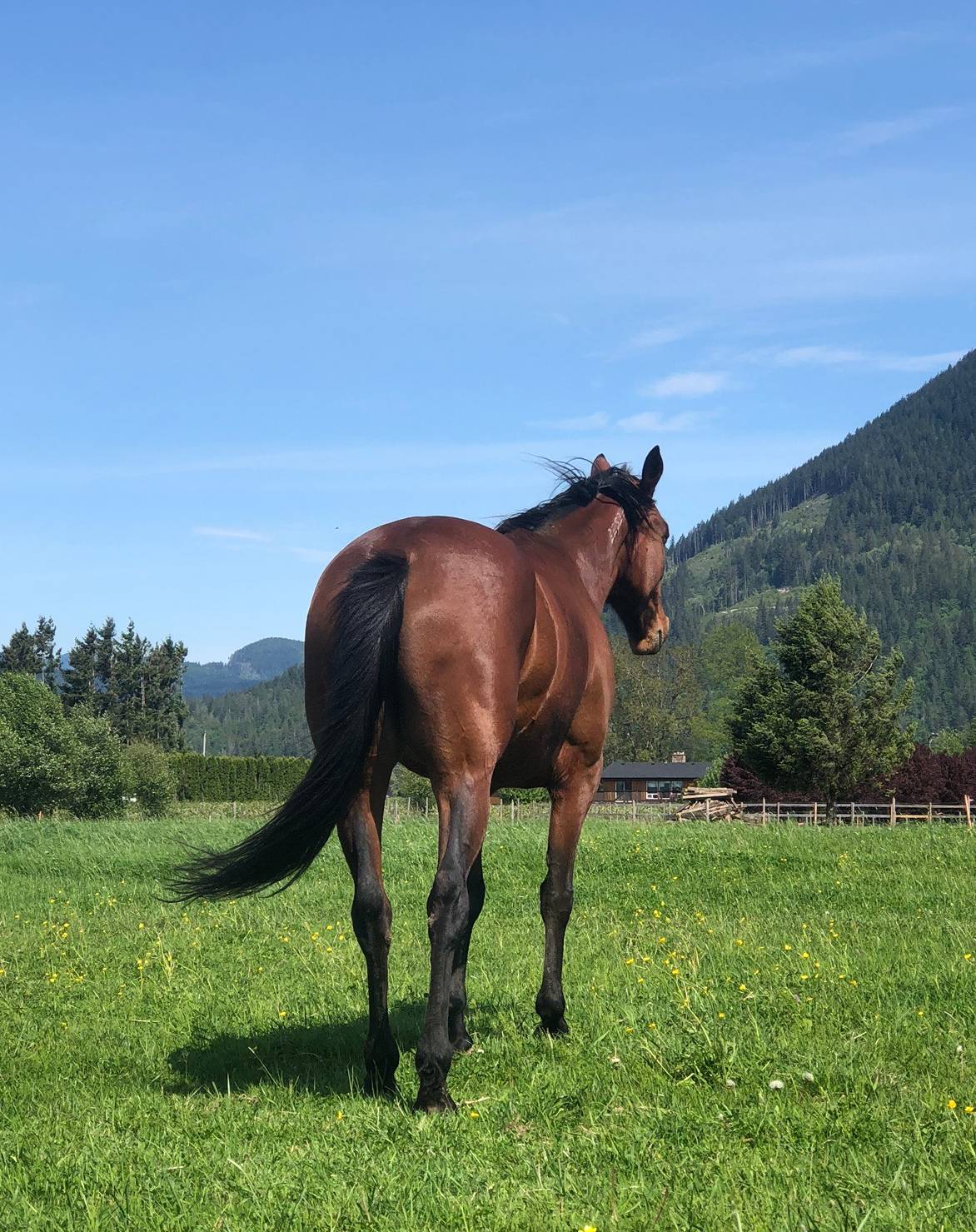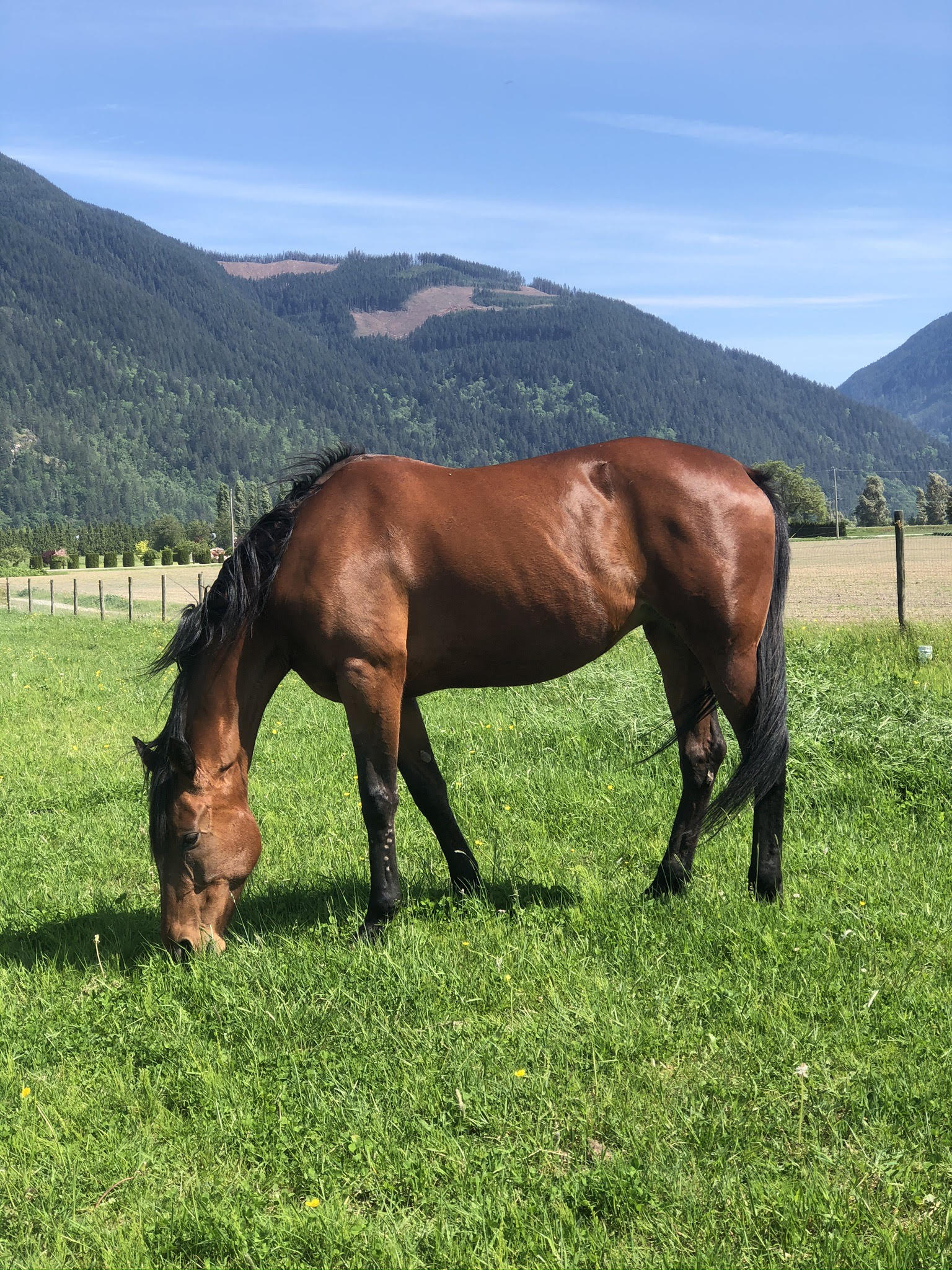 Ross Ridge Fortune is a beautiful 13 year old mare standing at about 15.3hh.
This classy girl raced a total of 190 times earning $298,970. Fortune is broke to drive and has been exposed to many things during her career making her pretty fearless.
She is very calm and easy to work with, she's great in a herd and an easy keeper.
Fortune has not been started under saddle yet but would make a really easy project for someone.
Fortune is located at our foster farm in Mission, BC
Her adoption fee is $650
---
ACTIVE PASS
18 year old Standardbred gelding ~15.3hh
Active Pass is a 18 year old gelding standing at a solid 15.3hh.
This guy earned his keep during his race days; with a total of 136 life starts he racked in $281,820.
Since retiring from racing he has been adopted through our program and then returned. Active Pass is a bit of a lost soul trying to find his place in this world.
Active Pass has difficulty in a herd and would be best in a home where he can be kept separate from other horses.
He's a great trail horse, very solid & sound he has lots of miles under saddle.
He would do best with a confident rider as he can test the riders experience level- he's a smart horse! Once a common ground is established he's open to building a really great relationship.
This guy trailers like a dream, take him camping, take him in the mountains- he's not scared of anything he's a war horse!
Active Pass is located at our foster farm in Mission, BC
His adoption fee is $650
---
BIG MAGICK (Buzz)
8 year old Standardbred gelding ~16hh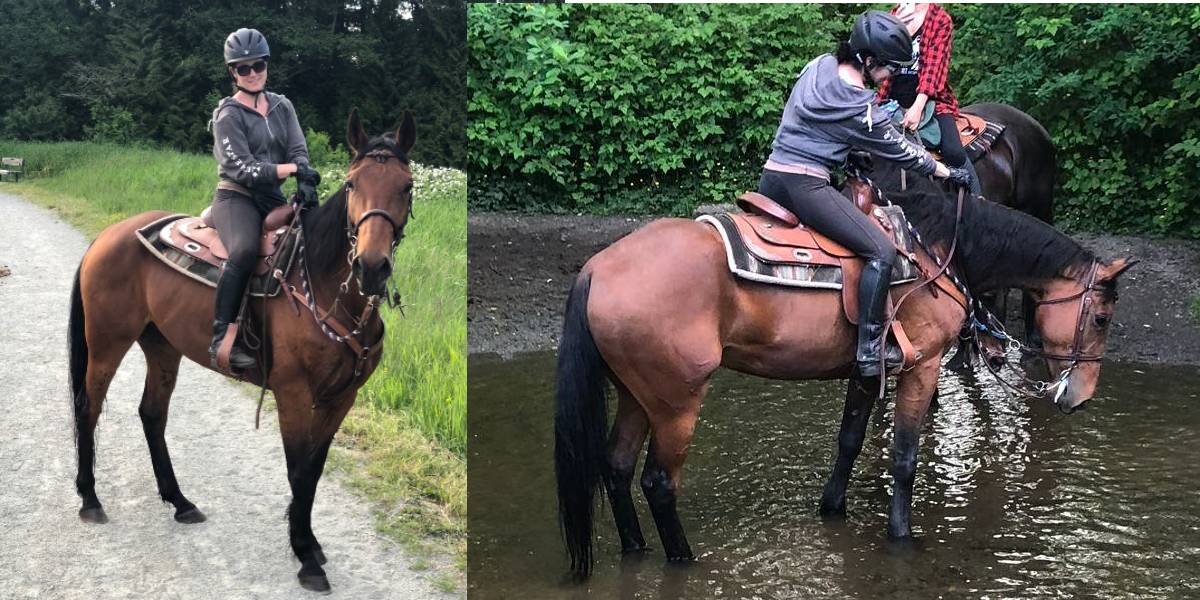 Buzz is a personable and outgoing guy, looking for a light/moderate riding or companion home due to a previous injury.
He is eager to explore and not phased by much.

Buzz was adopted and returned, allowing him some time to rest and recover. He has returned with a whole new zest to be a riding horse.
Buzz recently went for his FIRST trail ride and led the entire 11km. He crossed bridges, streams and passed multiple horses.
Buzz enjoyed his outing. He loads, hauls, ties and stands to be mounted with no problems. He is eager and confident under saddle.

Buzz would enjoy a home that would allow him some outings and adventures.
He can be a little dominant with other geldings when mares are around, but otherwise gets along well with horses.

Buzz is located at our foster farm in Mission, BC
His adoption fee is $650



If you are interested in any of our horses:

1) Fill out our

Adoption Matching Form
-You can print the form out and scan (or take a photo of) the finished product
-You can fill the PDF out on a computer by adding text to the document

2) Send your completed application to greenerpasturesbc@outlook.com with any
additional information you may wish for us to know

3) We will contact you to discuss your application and set up a time that works
with you to meet the horse of your dreams.