ALLITTLEFORPLACE (Lucy)
10 year old Standardbred mare ~15.3hh



Lucy has returned to the program after being in her previous home for 4 years.
This show stopping mare was a force on the race track. With only 37 racing starts, Lucy made over $100,000.
One of her most prominent races was the win she chalked up in the BC Breeders Classic final in 2013.
She is a pleasure to be around and will stand for brushing and loving for hours.
She has been ridden and we've been told she is quite quiet in the arena, but can be reactive off the property.
*Further assessment to be done soon*
Lucy can be dominant with other horses. She does fine in a herd, but may benefit from a large area when group housed,
Lucy is located at our foster farm in Mission, BCHer adoption fee is $650
---
BIG MAGICK (Buzz)
8 year old Standardbred gelding ~15.3hh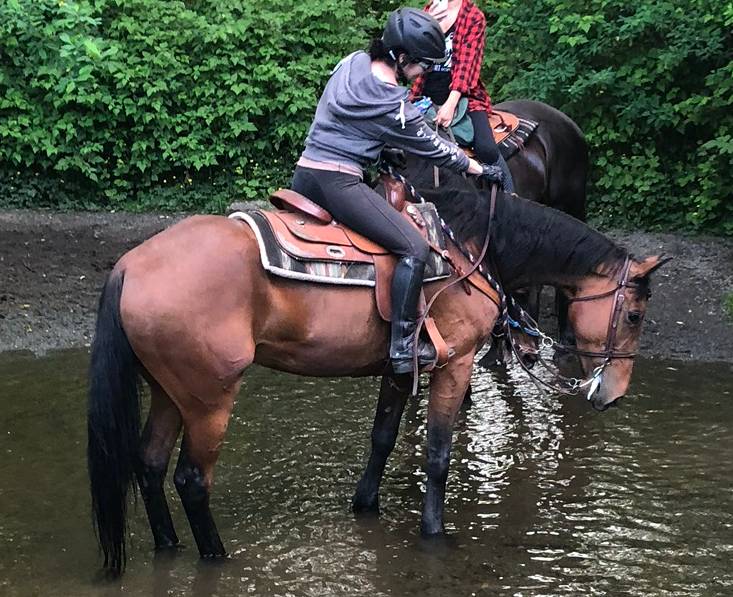 Buzz has returned to the program after no fault of his own.
He would really like to find a home that would casually like to hit the trails and avoid structured arena work.
Buzz is a friendly and personable guy. He is goofy and fun to be around.
He does do well with other horses in a group environment, but he does take some time to adhere to the social standings in a group.
Slow introductions to other horses have been very beneficial when Buzz meets new horses.
Buzz has previously bowed on both front legs, so he is not suitable for a jumping career or a home that wants to ride on challenging terrain.
He LOVES trail rides and would be great for someone looking for an equine partner to explore the trails with.
Buzz is located at our foster farm in Mission, BC
His adoption fee is $650
If you are interested in any of our horses:

1) Fill out our

Adoption Matching Form
-You can print the form out and scan (or take a photo of) the finished product
-You can fill the PDF out on a computer by adding text to the document

2) Send your completed application to greenerpasturesbc@outlook.com with any
additional information you may wish for us to know

3) We will contact you to discuss your application and set up a time that works
with you to meet the horse of your dreams.