ALLITTLEFORPLACE (Lucy)
10 year old Standardbred mare ~15.3hh


Lucy was a force to be reckoned with on the race track; in 37 starts she earned her connections $102,282.
Lucy suffered an injury as a 2 year old, with a small fracture in her pastern bone she was sent to an amazing team of veterinarians professionals. A few screws and some rest time later Lucy was back to the races. As a 3 year old this warrior girl was the champion of the BC Breeder Stake race, earning $38,000 that afternoon.
After deciding Lucy had earned the right to retire she entered Greener Pastures in 2015. Due to no fault of her own Lucy has passed hands several times since her retirement from racing. Throughout her journey she has accumulated many miles under saddle, some by a professional trainer. She was mainly used for trail and pleasure riding.
Most recently Lucy was returned because she was being aggressive towards her herd mate (one other mare.)
Since entering our program almost 2 weeks ago we have successfully integrated Lucy into a group with another mare and a gelding. Lucy does well when there's enough space, although she can be a bit bossy when food is involved she listens to cues of the other horses and will back off to her dominant herd mate.
If going to a home where she will be kept in a herd she is best suited with confident horses. Lucy likes to be top of the pecking order.
Lucy will do best with an experienced rider. She needs someone who has knowledge and skill to help her become balanced and build up her hind end. She would be a great dressage horse, she enjoys arena work but also has lots of experience hitting the trail.
Lucy is great to handle on the ground, good with dogs and children she has perfect manners.
Interested in meeting Lucy? Please send in an adoption application, which can be found if you scroll to the bottom of the adoptions tab.
Lucy is located at our foster farm in Mission, BCHer adoption fee is $650
---
BIG MAGICK (Buzz)
8 year old Standardbred gelding ~15.3hh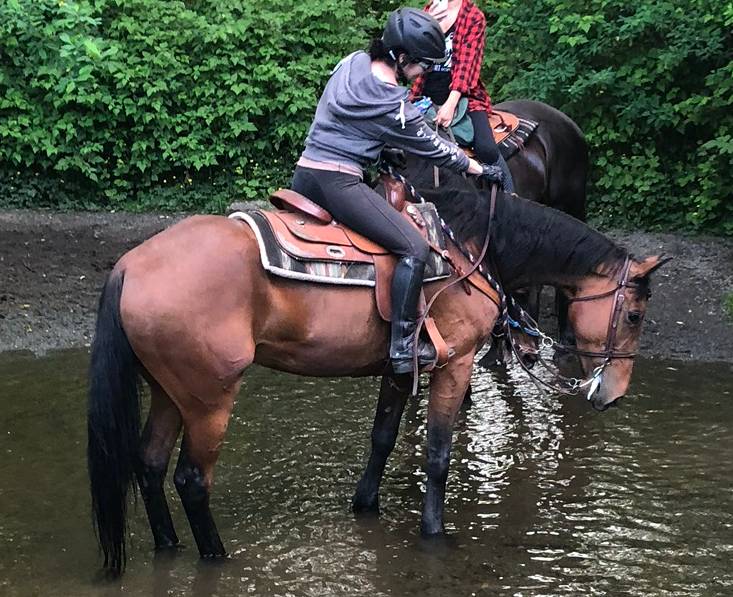 Buzz has returned to the program after no fault of his own.
He would really like to find a home that would casually like to hit the trails and avoid structured arena work.
Buzz is a friendly and personable guy. He is goofy and fun to be around.
He does do well with other horses in a group environment, but he does take some time to adhere to the social standings in a group.
Slow introductions to other horses have been very beneficial when Buzz meets new horses.
Buzz has previously bowed on both front legs, so he is not suitable for a jumping career or a home that wants to ride on challenging terrain.
He LOVES trail rides and would be great for someone looking for an equine partner to explore the trails with.
Buzz is located at our foster farm in Mission, BC
His adoption fee is $650
---
PAVLA HANOVER (Pavla)
15 year old Standardbred mare ~15hh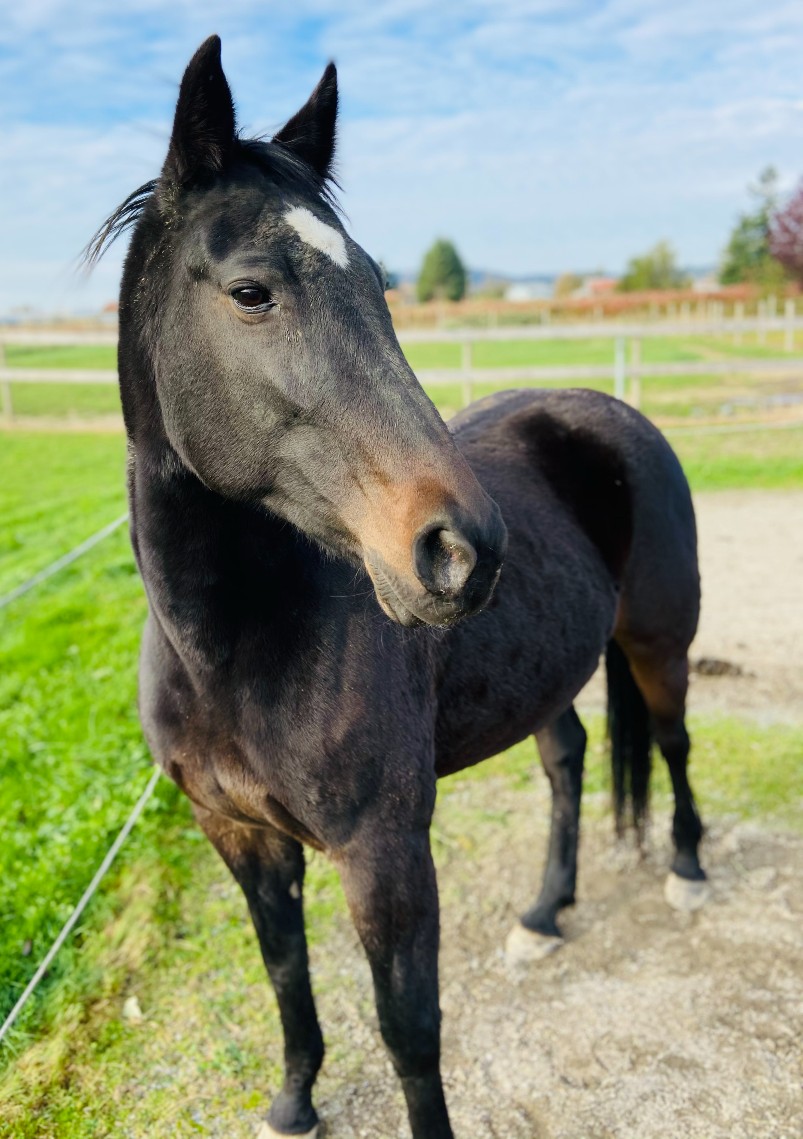 Pavla Hanover is cute and stocky - standing around 15hh.
This beautiful girl is new to our program and we are just getting to know her.
She has spent most of her life as a broodmare after a short but successful racing career.
Pavla has produced some very impressive racehorses but now its time for her to enjoy being an empty nester.


This girl has an amazing temperament, is easy to handle and great for the farrier.
Pavla is good in a herd of other horses, she is settling in well into our program.
This girl will be an easy project with lots of potential to go in many directions.
Stay tuned for updates as we start Pavla under saddle!
Pavla is located at our foster farm in Mission, BC
Her adoption fee is $650
---
TAHUYA TWLIGHT (Twilight)
11 year old Standardbred mare
Check back soon for photos and more information!
If you are interested in any of our horses:

1) Fill out our

Adoption Matching Form
-You can print the form out and scan (or take a photo of) the finished product
-You can fill the PDF out on a computer by adding text to the document

2) Send your completed application to greenerpasturesbc@outlook.com with any
additional information you may wish for us to know

3) We will contact you to discuss your application and set up a time that works
with you to meet the horse of your dreams.