SOMETHING SO ROYAL "Jewel"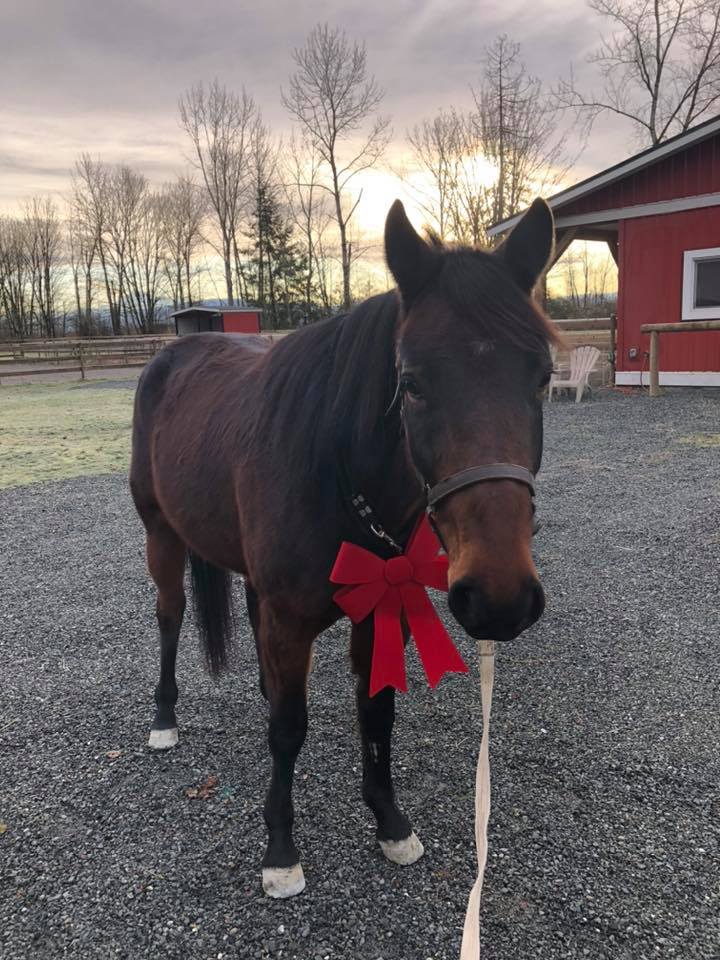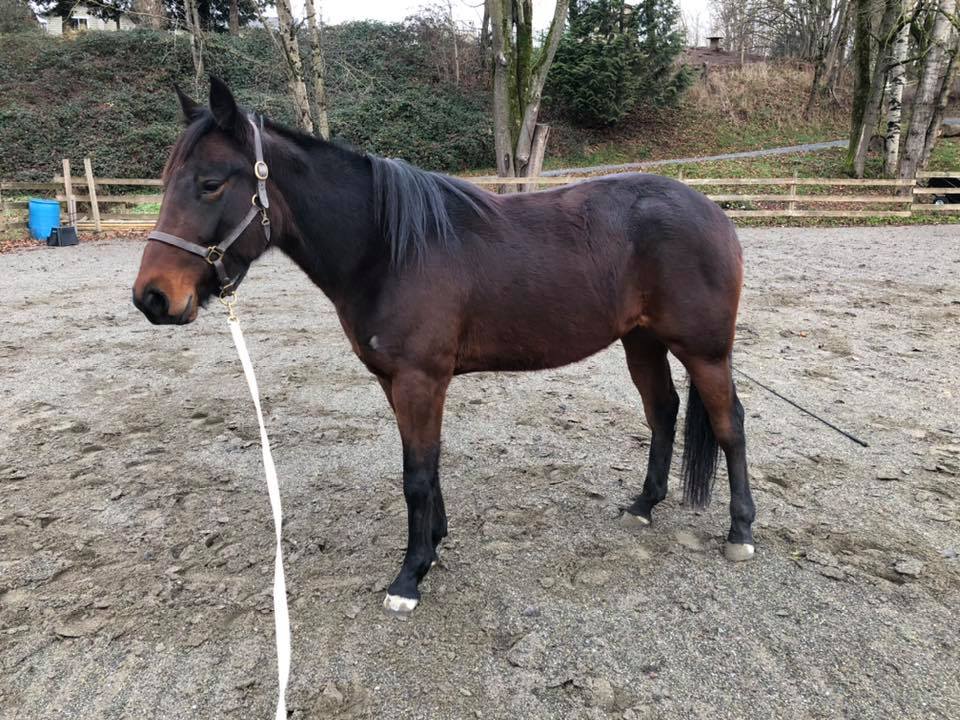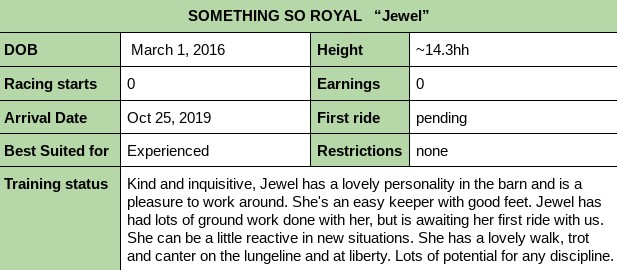 'Jewel' briefly spent some time with us in the Summer and was quickly adopted and put into training.
Due to no fault of her own, Jewel returned to us this fall.
She's spent a bit of time kicking her heels up and having some time off. She's a young girl with a lot of potential for any discipline.
Despite her short stature, she has a great build to her.
We will be getting some more rides under her shortly to assess her under saddle.
Jewel is available for adoption from one of our foster farms in Aldergrove, BC
Her adoption fee is $650
---
IMA B DOUD "JJ"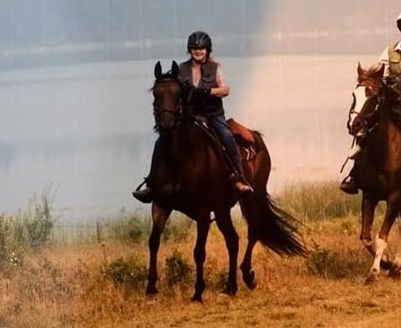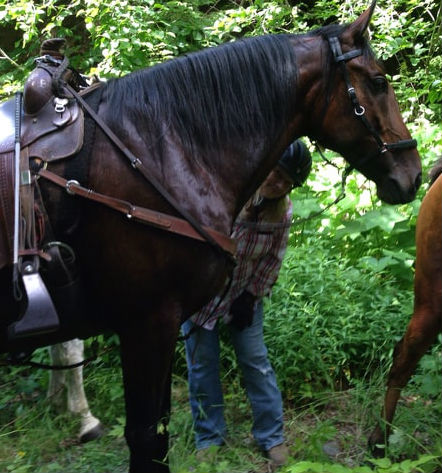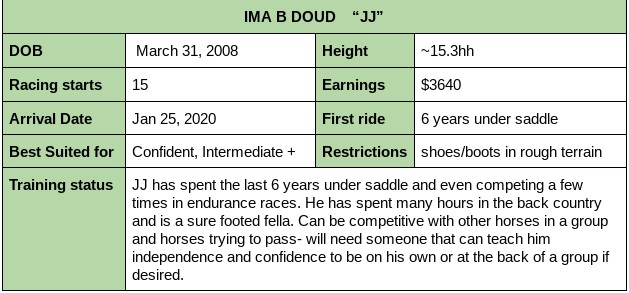 It is not very often that we get a horse with as many miles under him as this guy, JJ.
Literally, miles. JJ was adopted 6 years ago and spent that time as a back country horse and endurance mount
He's compted in competitive 25mile rides and even finished 4th two years ago! He has a solid walk/trot and canter- he even neck reins!

His owner made a very difficult decision to return him to the program, as JJ has proven he would benefit
from a partner that routinely likes to get out and ride. He can be quite forward and competitive with other horses
if he is not in the lead (or another horse passes him on the trails). He would benefit from a partner that is experienced
and confident. He requires shoes or boots when out on hard terrain.

Are you looking for a sturdy guy to get you where you want to go? Come check out JJ!

JJ is located at our foster farm in Aldergrove, BC
His adoption fee is $800
---
REELIZA B DOUD "Lizzy"
4 year old Standardbred mare 15.2hh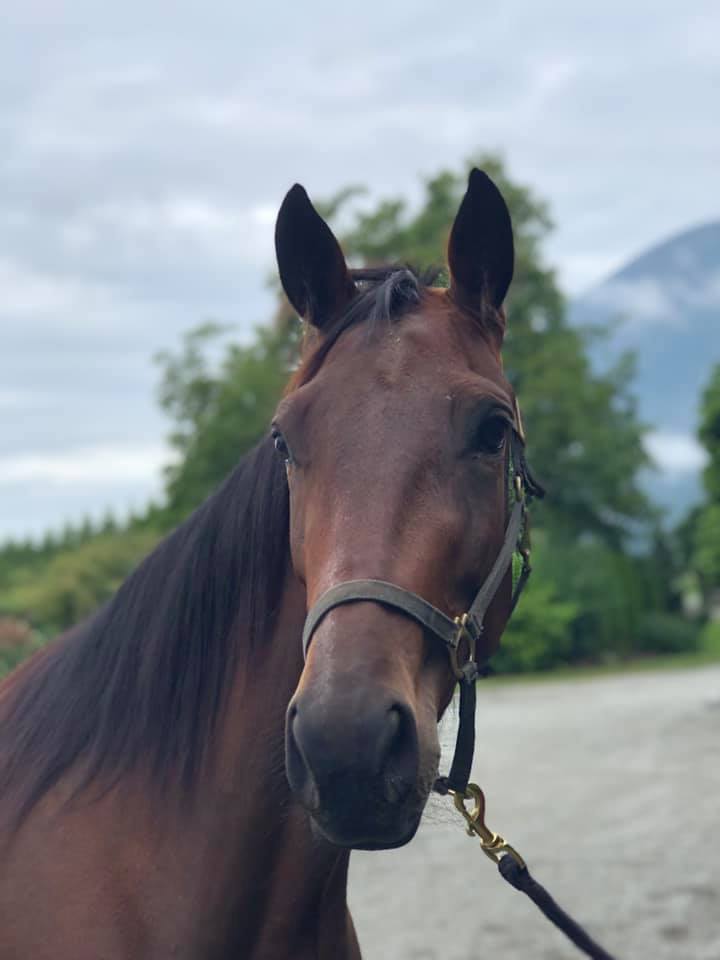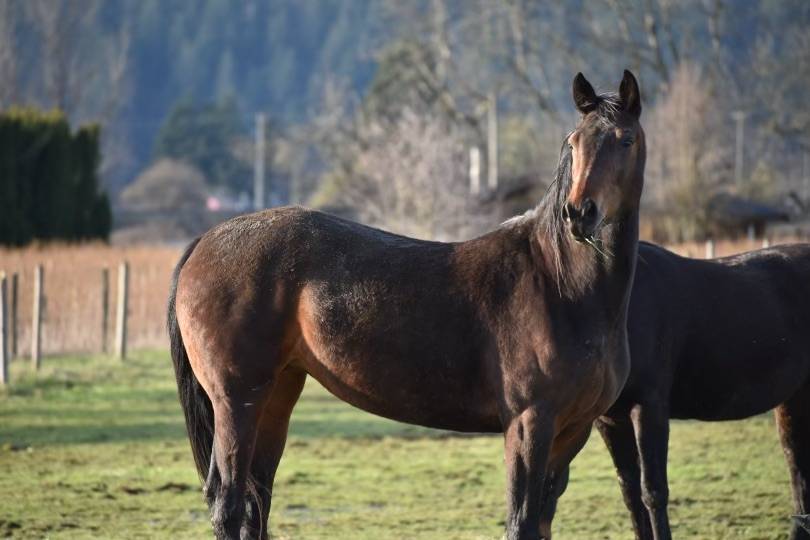 A young girl that can go in any direction with the right guidance, Lizzy would be a wonderful project horse.
She is curious and always ready to learn- she wants to work!
She gets along great with other horses in a herd environment and is a nice mare to work around.
Lizzy has not had too much done with her under saddle, making her a blank canvas at this time.
Watch for updates on this girl!

Lizzy is available for adoption at our foster farm in Mission, BC.
Her adoption fee is $650


---
COBALTSLASTSTAND "Colty"
8 year old Standardbred gelding ~16.3hh
This tall boy was a bit too big and clunky to get around the race track. He tried 42 times, finishing second 5 times and third 11 times.
His owners recognized that he wasn't cut out for the race track and sent him to us so he could begin his career as a riding horse.
Colty is sound with a long stride and beautiful trot. Colty had his first ride last summer during our green horse clinic at Fast Times Farm.
Colty is looking forward to getting busy again and getting some more miles under saddle!
He's a very sweet boy with a gentle temperament!
Stay tuned- more pictures to come!
Colty is located at our foster farm in Mission, BC
His adoption fee is $650
---
BULLETSAFLYIN "Lottie"
7 year old Standardbred mare ~16 hh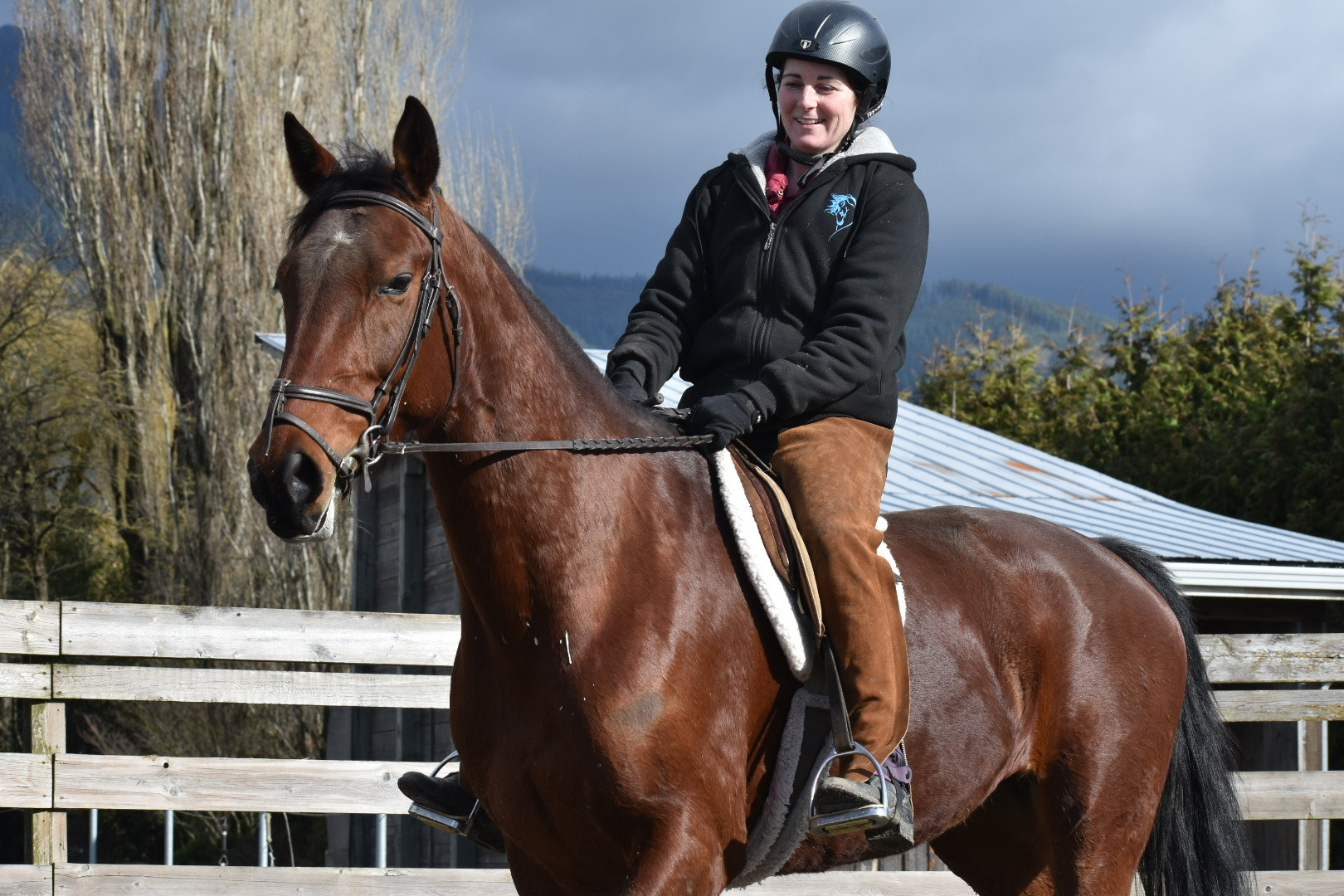 Half sister to our superstar girl SKYROSEPILOT "rosie"
Lottie retired from racing completely sound. She raced 104 times racking in $58,500 in her race career.
She's a beautiful girl with a fine looking head and kind eye. She is the newest arrival so we are still getting to know her. Stay tuned for updates!
Lottie is located at our foster farm in Mission, BC
Her adoption fee is $650
If you are interested in any of our horses:

1) Fill out our

Adoption Matching Form
-You can print the form out and scan (or take a photo of) the finished product
-You can fill the PDF out on a computer by adding text to the document

2) Send your completed application to greenerpasturesbc@outlook.com with any
additional information you may wish for us to know

3) We will contact you to discuss your application and set up a time that works
with you to meet the horse of your dreams.